Eric Freely Supports:
Jarrett Wins Championship
November 14, 1999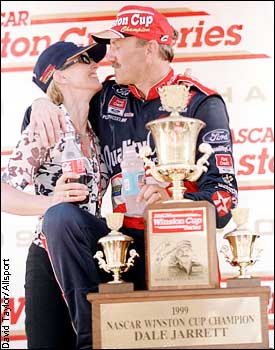 Go DJ Go! With a race left to go, Dale Jarrett held on to his unsurmountable lead this weekend with a fifth-place finish at Miami. DJ only needed to finish 8th or better to clinch the Winston Cup, assuming that Bobby Labonte won the race and led the most laps. Labonte, who is second in the point standings to Jarrett, tried to do just that, showing the Pontiacs were a dominant force at the flat track in Miami. But Jarrett slowly moved up in the almost caution-free event and even lead a few laps during green-flag pitstop rotations. Labonte lost a spot during the last pitstops, when his teammate, Rookie Tony Stewart, came out of the pits inside him and wouldn't give up the line as they bumped in the corner. Stewart went on to win a record-setting third time this season, the first Rookie to do so, but all eyes were on Dale Jarrett as he crossed the finish line with yet another top-5 performance. Jarrett was greeted as he emerged from his car by his wife and children. Jarrett thanked Robert Yates and the whole crew, as well as the Yates greats that came before him, Davey Allison and Ernie Irvin. The image that will last of Jarrett this season (besides him pulling away from the pack at Michigan) will be his children on his lap, and his arm around his wife as he finally becomes the Champion we know he always was. Way to go, DJ.

Coming soon from Go.Dale.Jarrett.com: a new Desktop image commemorating Dale Jarrett's championship season! In the meantime, show the world your congrats to DJ by signing the Guestbook.
QuickStats:
ThisRace:
Miami, 11/14/99
Qual:
12th
Finish:
5th
LastRace:
Phoenix, 11/7/99
Qual:
5th
Finish:
6th
Standings:
after Miami
&nbsp
1. Dale Jarrett
2. Bobby Labonte
3. Mark Martin
4. Tony Stewart
5. Jeff Burton(+1)
Jarrett in Top-10 Again, Looks to Miami to Clinch
November 7, 1999

Dale Jarrett continued his consistant year by finishing in the top-10 once again in Phoenix. Tony Stewart won his second race in his rookie season, tieing the mark set by the late Yates great, Davey Allison. But all eyes are on Jarrett this weekend as the winston cup boys head to Miami for the first time. Jarrett's first Winston Cup race there may have his best finish ever; he only needs to finish 8th or better to clinch the championship with one race to go. DJ's taking a car that's only finished outside of the top-10 twice in 19 races, so hopefully that good luck will continue. The race is on national network television, NBC at 12:30 on Sunday. Let's cheer DJ on to the Winston Cup! Go DJ!!!
Burtons Battle, Jarrett Gets Closer by Standing Still
October 24, 1999

Dale Jarrett didn't win on Sunday, but he didn't hurt his chances for the title one bit. Even though he finished one spot behind Bobby Labonte (who is one spot behind Jarrett in the points), he led the most laps, giving him an extra five points and making up the difference in finishing order. So Jarrett still leads Labonte by 246 points with only three races remaining. Coming into the race, Jarrett only needed to finish 13th or better to clinch the title (assuming Labonte won and led the most laps), but now he only has to finish 19th or better. If he and Labonte are close again after that, look for the minimum finish to increase even farther. Right now Jarrett can miss a race and still be in the lead.
Meanwhile, right in front of Jarrett and Labonte, the Burton brothers were battling again. Jeff walked away with the win, and Ward had to settle for second. It's the third time Ward has been beaten only by his little brother. He'll get him one of these days...
Sorry, DJ fans, about the delay in posting this news. My host was down for a while when I tried to log on and update. It should be alright, though, as the Winston Cup boys have this weekend off before they head to Phoenix on Nov. 7. Check back next week for qualifying a finishing results. Go DJ!
Martin Poles The Rock Again, Jarrett Starts 3rd
October 22, 1999

Mark Martin rules the rock. Today he grabbed the pole in both of this weekend's events at Rockingham just a few hours apart from each other. Dale Jarrett was one of the first to make a qualifying run and will start on Sunday directly behind Martin in 3rd position. Makes it no too far to the front of the pack, doesn't it? Jarrett has finished 2nd six of the last seven races at the Rock. Let's hope he can keep up that consistency (even though he only needs to finish 13th or better in the rest of his races to win the Cup). Go DJ!
Dale and Dale Once Again
October 17, 1999

How many times have we seen these two battle it out on the super speedways? Dale Earnhardt battled past Dale Jarrett in the final laps of Sunday's Winston 500, and held on tenatiously to win. But from Jarrett's comments after the race, I think DJ was more concerned with crossing the finish line in one piece than grabbing the checkered flag. He didn't want to push it and cause a wreck, and he knows the #3 will always put up a fight if he's near the front with a few laps to go (just ask Terry Labonte!). Mark Martin's 15th place finish moves 7th-place finisher Bobby Labonte into second place overall, but DJ's second place finish still puts more distance between him and the rest of the pack. DJ now leads by 246 points with just 4 races to go. That means he can give up 61 points in each of the last four races and still win the Cup! It's getting closer by the second... can you feel it, DJ Fans? Well! Can you? Say it with me now... GO DJ!
Gordon Does It Again, Wins Rain-Postponed UAW-GM 500, Jarrett Top 10 Again
October 11, 1999

You wonder why Jeff Gordon waited so long to make the step up to Brian Whitesell as crew chief. Sure, Gordon and Ray Evernham won 47 races and 3 championships in the last few years, but Whitesell has a 100% win rate. You can't do better than that. Gordon started 22nd, but slowly moved up to the front and pulled off a classic win by leading only 16 laps, including the last 8. Dale Jarrett led a few laps early, but the track changed as the day went on, and others adjusted better than the #88 and DJ fell from the front spot. But DJ held in and brought home a 7th place finish. At this point DJ needs to finish 8th or better to guarantee the Winston Cup, and that number is sure to go higher as the end of the season gets closer... Go DJ!
Labonte Sweeps Charlotte Poles, Jarrett Starts Inside Row 5
October 6, 1999

Qualifying for this weekend's UAW-GM 500 at the speedway near Charlotte came a little earlier in the week than usual; wednesday night saw Bobby Labonte grab the pole, just as he did in the Coca-Cola 600 in the Spring. Dale Jarrett had a decent qualifying effort, and will start ninth. So he'll start about four cars behind the leader, and 500 miles is plenty to catch, pass, and grab the checkers. Go DJ!
Gordon Wins With New Crew Chief, Jarrett Holds On For Another Top-10
October 3, 1999

Jeff Gordon lost the only Winston Cup crew chief he'd ever known this week, but you wouldn't know it by his performance on the track. New crew chief Brian Whitesell kept Gordon on the track during the final caution, and Gordon rode on to victory. Congrats to Brian. Everyone was looking at him after Evernham left, and he stepped up strongly. I don't feel so bad cheering for him because Gordon's not a threat this year. Dale Jarrett hung out in the top-10 most of the race, and as his soon-to-NOT-be teammate Kenny Irwin was spinning out Tony Stewart, he calmly took his tenth-place finish and lost only 13 points to Bobby Labonte. DJ's still over 200 points ahead with only six races to go, so 13 points on one of DJ's least favorite tracks is fine. Next week, DJ goes to one of his favorite tracks at Charlotte for the UAW GM 500. Just six more to go... can you feel it?